We are delighted and proud to announce the players called up to join Panjab FA today for training at Lilleshall NSC. National team manager Reuben Hazell will have a wide selection of players to assess, to make the final squad to play in the upcoming games.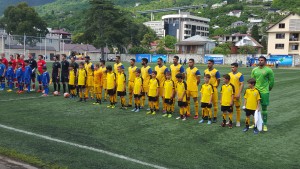 Panjab national football team lineup for the 1st game in the
group stages at the ConIFA World Football Cup 2016
for the first time in Panjab's history.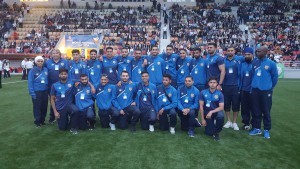 Panjab national team management and squad during the
ConIFA World Football Cup 2016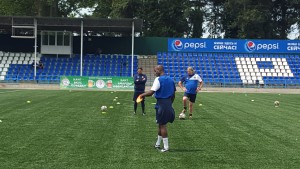 Panjab national football team management discussing plans for
training during the ConIFA World Cup 2016 in Abkhazia.
Pictured – Reuben Hazell (Manager), Amar Ali (Assistant Manager),   Darren Wright (Coach)
Please find squad list below:
Goalkeepers
Ash Malhotra – Stourbridge FC
Raajan Gill – n/a
Sonny Holyhead – n/a
Defenders
Jhai Dhillon – Redditch United FC – LB
Rajbinder Singh  Gill – Langley FC -LB/LM
Arjun Purewal – Jarrow Roofing FC -CD
Aran Basi – Albion Sports FC -CD
Aaron Singh Sekhon – Phoenix Sports FC -CD
Glenvir Hayer – Clevedon Town FC -CD
Rehan Khalid – n/a -CD/DM
Simran Dhillon – University of Bristol -RB
Ryan Mahal – Leatherhead FC -RB/RM
Pritpal Tiwana – Punjab United Wolves FC -RB
Danny Singh Rai – LK United -RB
Kuran Athwal – Albion Rovers FC – RB/CD/LB
Midfielders 
Aaron Minhas – Beaconsfield SYCOB FC -CM
Toch Singh – Tilbury FC -CM/AM
Omar Rio Riaz – Windsor FC -CM/AM/10
Rajpal Virk – Marbella United (Spain) – CM/AM/10
Aaron Singh Dhillon – Castle Vale Town FC -RW/LW
Jordi Sell – n/a -LW/RW
Amarvir Sandhu – Leicester Roads FC -AM/LW/10
Jordan Sidhu – n/a -AM/LW/RW/10
Aaron Bains – n/a -LB/CM/LW
Dillon Bains – Maidenhead United FC -DM/CM
Camen Bhandal – Fisher FC -DM/CM
Makhan Singh Rai – n/a -DM/CM
Jas Sira – Wychall Wanderers FC/GSA  FC – CM
Harj Samra – Six Towns United FC -LW/RW
Strikers
Gurjit Singh – Redditch United FC – LF/10/ST
Amar Purewal – Shildon AFC – ST
Sukhraj Nijjar – Southam United FC – ST
Nathan Minhas – Beaconsfield SYCOB FC/FLackwell Heath FC (duel registration) ST