Panjab FA kicked off their 2018 CONIFA World Football Cup with a resounding 8-0 win over Kabylia at Arbour Park, Slough, on Thursday May 31.
Amarvir Sandhu, Gurjit Singh, Amar Purewal, and substitute, Kamaljit Singh all scored two goals each to help Panjab cruise to victory in their first Group D game.
Western Armenia and United Koreans in Japan had earlier played out a 0-0 draw in the other group stage fixture. So, Panjab FA went into the match knowing that a victory would put them in firm control of Group D of the 2018 CONIFA World Football Cup.
But it was far from a simple start for Panjab. Kabylia began well, enjoying slightly more possession in the early stages, and even had the ball in the net just five minutes in.
Sami Boudia appeared to have put the CONIFA World Football Cup debutants ahead when he rolled the ball into an empty net having gone past Panjab's Yousuf Butt in goal. However, the referee had blown his whistle for offside well before. And rather than a goal, Boudia received a stern talking to for continuing play and kicking the ball away.
That early scare looked to help Panjab settle into the game.
Soon after, Raj Virk sent a menacing free-kick into the Kabylia box, which goalkeeper, Rahim Belaid, initially dropped. Nobody could react quick enough, though, and Belaid gathered at the second attempt.
Midway through the first half, Gaz Singh's intelligent dummy allowed the ball to run through to Jhai Dhillon on the left-hand side. The full back sent in a wonderful first-time delivery which fell to Virk ten yards out. But Kabylia's goalkeeper, together with their captain, Khelifa Drider, somehow diverted Virk's fierce effort away from goal.
Two minutes later, though, Panjab were ahead.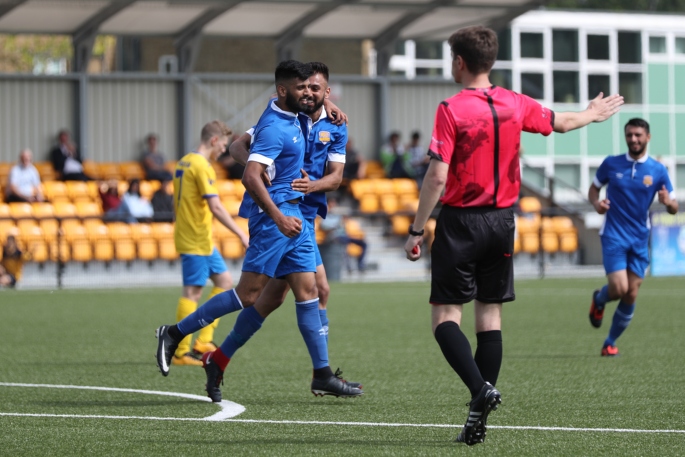 In the 24th minute, Virk had the ball in the right corner, before drifting inside majestically. He slipped the ball through the legs of Idir Belasa, before arrowing a pass towards the penalty spot where Panjab's captain, Amarvir Sandhu struck a powerful first-time effort into the net courtesy of the crossbar.
The North African team, though, responded well to falling behind. Yanis Kemache fired a free-kick just inches wide of the Panjab goal, before Yousuf Butt produced a stunning one-handed save to deny Ilyas Hadid from scoring a curling effort.
Panjab FA doubled their lead on the stroke of half-time when the prolific Amar Purewal was given the simplest of finishes after some good play by captain, Amarvir Sandhu.
While the first-half brought about chances for both sides, the second period belonged completely to Panjab FA.
Arjun Purewal headed just wide from a Raj Virk free-kick before the marauding left-back, Jhai Dhillon, won a penalty for his side in the 51st minute.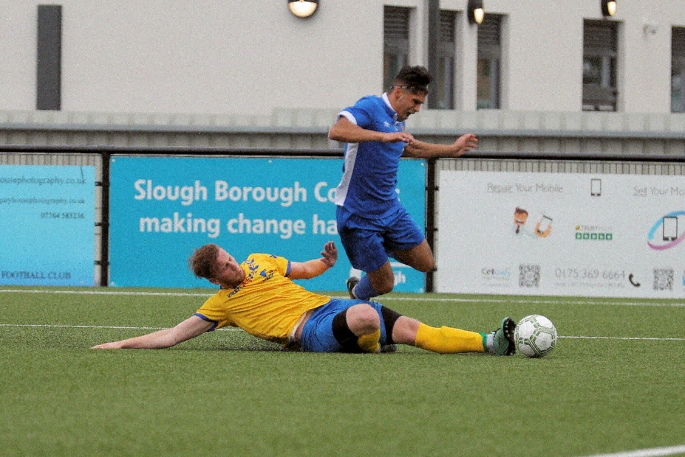 Gaz Singh's strike from 12 yards was perfectly placed in the bottom left corner, beating Rahim Belaid who guessed the right way.
Just seconds later, Amarvir Sandhu headed his team 4-0 ahead from a Gurjit Singh cross, and left Kabylia needing a miracle to get a positive result on their tournament debut.
But Panjab FA were now at their devastating best, and chances continued to come their way.
In stark contrast, Kabylia were tiring quickly from the pressure they were being put under. The hard-working Sami Boudia went down with cramp, and just moments after getting up, he saw his side fall further behind.
Sandhu produced more excellent work on the right side before feeding the ball to his overlapping teammate, Toch Singh. The full-back then fired the ball into the box for Amar Purewal to smash in and make it Panjab FA 5-0 Kabylia.
Jhai Dhillon and Amar Purewal both had chances to extend Panjab's lead before manager, Reuben Hazell made changes.
Purewal was denied the chance of getting himself a hat-trick when he was replaced by Kamaljit Singh after 70 minutes. Rajpal Virk and Camen Bhandal were also replaced by Rio Riaz and Arjun Jung, respectively.
And it didn't take long for the substitute Kamaljit Singh to get in on the goalscoring action after he chested down Gurjit 'Gaz' Singh's cross before smashing in from seven yards.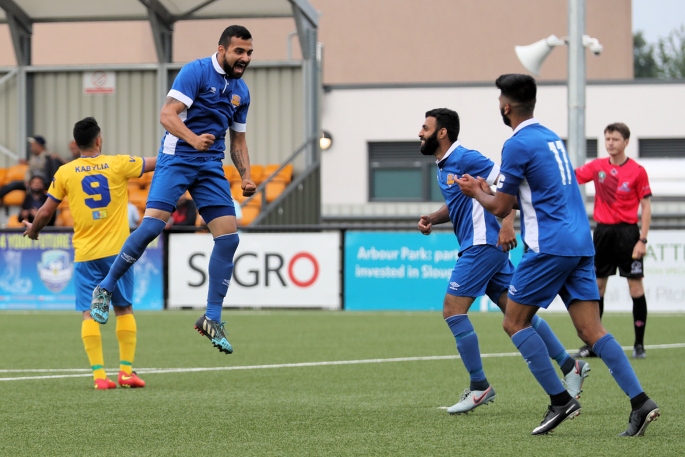 Sami Boudia very nearly capitalised on some mis-control from Arjun Jung on the edge of his own area, but Yousuf Butt produced another incredible save, this time with his outstretched left leg.
Amarvir Sandhu came off to warm applause from the crowd with ten minutes to play, with Taimoor Hussain replacing the skipper.
Just seconds later, Kamaljit Singh scored his second. Gaz Singh danced through Kabylia challenges before playing a neat one-two with Rio Riaz. He then squeezed through a ball for Kamaljit Singh to smash home Panjab's seventh goal.
Kamaljit Singh thought he had a hat-trick when he tapped home Gaz Singh's effort which had bounced off the post on 88 minutes. But his celebrations were cut short when he turned to see the linesman's flag up for offside.
A ruthless Panjab FA team, though, did have an eighth goal with virtually the final kick of the game. Kamaljit Singh turned to slide an exquisite ball through for Gaz Singh, who beat the keeper to it, taking it around him effortlessly before rolling the ball into the net.
And that's how it finished, Panjab FA 8-0 Kabylia. It was a sensational start to the 2018 ConIFA World Football Cup in London for the Panjab team. Following this incredible win, they will have every confidence of going one step further than they did two years ago in Abkhazia.
Make sure you keep up with their incredible journey by watching them live in stadiums around the English capital. Follow this link for official ticketing information. You can also watch a full replay of Panjab FA vs Kabylia here.
Written by Keiran Samra.