The Panjab National football team are set to take on MIFA (Manchester International football academy) on Sunday 20/03/16 in Manchester, kick off 1pm. https://www.manchesterinternationalfootballacademy.com/
The fixture will take place at the Salford Sports Village – 325 littleton Road, Salford M7 3NQ with a kick off time at 1pm. Come along and bring your family and friends to watch and support the National team, FREE ENTRY.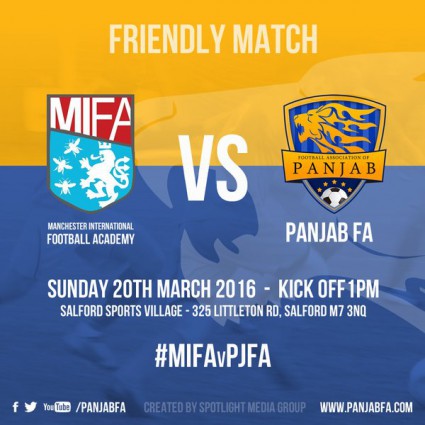 Panjab FA give thanks to MILFA for the fixture.
The game VS MIFA will further help prepare the National team of Panjab for the ConIFA World Championships this May 2016. The opening ceremony of the Championships commence on the 28/5/16 in the region of Abkhazia near Russia. For further details from the hosts, please visit http://abkhazia2016.org/en/.
The final Squad are set to be announced in the next 24 hours, the players will give representation to the global Panjabi community consisting of no less than 125 million.